July 27, 2016
Dry Baltic Index Roller-coaster or the Future of Dry Bulk Shiping
Baltic Dry Index is considered to be a reliable litmus paper in shipping industry. Being a rather vulnerable value it fluctuates in response to slightest changes in word's economic activity. Global supply and demand forces are visible through variations in Baltic Dry Index.
Retrieving the Baltic Dry Index value gives a good insight onto the current market situation and allows making relatively accurate predictions on investment and capital restructuration necessities.  Rising index is a leading indicator of future economic growth thus it is a matter of interest for those interested in their business sustainability. For the last 2 years Baltic Dry Index was in sharp recession indicating stagnation in the market.  This situation brought concerns for publicity regarding the future of dry bulk shipping industry sustainability. Shipping giants sold off vessels on extremely low levels to prevent loses to their enterprises.
After shock in February 2016, when the value of the index hit its lowest in 5 years term point, it was not expected that it will recover as fast as by April. It came with a surprise when the index rose sharply, recovering from the market shock and reviving industrial actors. On the edge of June and July the index went up 20 points over night making it top good news f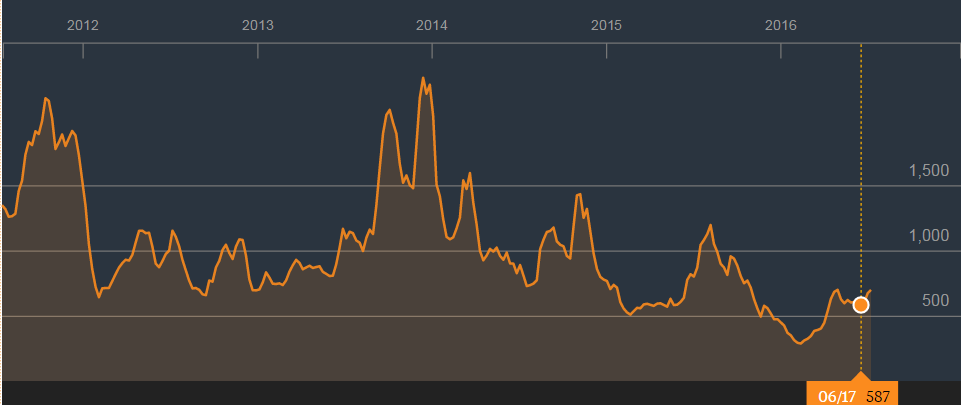 or dry bulk market over the recent period of time, sowing hopes for profit generation in coming quarter.
Given the recent gradual recovery of the index, a prediction that situation will become better by 2017 seems indeed realistic. Yet for now as the demand for iron ore and coal contracts, dry bulk shipping market will remain in recession with slight seasonal upraises. Falling demand for these commodities caused price fall recovering the market to equilibrium. As far as supply will diminish to meet the demand market will recover pulling up dry bulk industry, therefore indicating economic growth which will directly influence Dry Baltic Index causing it to go up.
Follow the movements of the index:
http://www.bloomberg.com/quote/BDIY:IND
http://investmenttools.com/futures/bdi_baltic_dry_index.htm